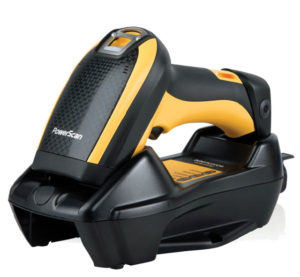 To run asset management efficiently, the most common, and we feel best practice, is to barcode all your stock and assets. If you have never done this before, do not worry, HireHop is here to help you make this transition smoothly and easily, enabling you to get up and running with minimal effort.
Choosing the what type of barcode scanners and label printers can be quite daunting, and even more daunting is setting them up to work correctly with your software. HireHop are here to help our customers and can supply you not only pre-configured barcode scanners, but also label printers and tablets, all at cheap and competitive prices.
We are authorised sellers for many brands of barcode scanners and label printers, and with our vast experience and extensive research, we have chosen the best and most reliable known brands to use with the HireHop rental management software, all at very competitive prices.
Barcode Scanners
We supply Data Logic and Socket wireless barcode scanners as we feel that these are the most reliable and the best. We recommend the Data Logic scanners for use with computers and the Socket scanners for use on portable devices, such as tablets and phones. There are also different technologies in scanners, from laser to imager and some allow you to accurately read barcodes at any angle, however we will advise and supply you according to your needs.
Label Printers
Not only do we supply label printers, but also the labels and different colour ink to go with them. We supply Zebra printers for the smaller devices, who are industry leaders.

Advantages of barcode label Printers

You can print as many labels as you want for each asset
You can replace broken or missing labels
Easy to change your design and logo for different labels.
Far cheaper than buying pre-printed labels
HireHop can auto generate barcodes as well as checking for duplicates
Change the label design for certain assets
Looks like bought labels
Print does not rub off or smudge, even when wet
Different types and sizes of label available
Tablets and Portable Devices
As the tablets are mainly used in the harsh environment of a warehouse, they are prone to getting dropped and knocked, thus we recommend you use cheap and tough devices.  We have done extensive testing to find what feel are tablets that fit this criteria perfectly, and can supply you with tablets as well as peripherals such as protective cases and holsters. We can also supply you with used devices or ex-demonstration tablets (including Apple) to help you keep costs low.